Appetizers
20 Piece Minimum
1 piece per person, unless otherwise noted
Oyster Displays
Crostinis
Displays
Private Event Menus
7.5% tax rate, 20% gratuity and a 5% administrator fee will apply
Gulf Shrimp, local blue crab, Cajun dark roux, basmati rice
Roasted local corn, white wine, fresh thyme, applewood bacon, oyster crackers
Romaine, pecorino romano, heart of palm, crispy leeks, roasted garlic Caesar dressing, house herb-garlic croutons
Angus beef, sweet sourdough bun, house dill pickle, cheddar cheese, leaf lettuce, tomato, shaved red onion, crispy fries
Cornmeal-Dusted Gulf Shrimp
Jumbo Gulf Shrimp, tangy slaw, sweet corn hushpuppies, smoked corn tartar, sriracha cocktail, crispy fries
Mississippi sweet potatoes, sautéed kale, tomato curry, fresh ginger, basmati rice
Chef Choice Baked Cookies
7.5% tax rate, 20% gratuity and a 5% administrator fee will apply
Gulf Shrimp, local blue crab, Cajun dark roux, basmati rice
Romaine, pecorino romano, hearts of palm, crispy leeks, roasted garlic Caesar dressing, house herb-garlic croutons
Bibb lettuce, green goddess, lemon-herb marinated vegetable salad, quinoa chili crunch. Choice of: Chicken or Salmon
House duck pastrami, ham choucroute, Emerald Coast Bread Co. sour rye, Havarti, creole remoulade, crispy fries
Cornmeal-Dusted Gulf Shrimp
Jumbo Gulf Shrimp, tangy slaw, sweet corn hushpuppies, smoked corn tartar, sriracha cocktail, crispy fries
Mississippi sweet potatoes, sautéed kale, tomato curry, fresh ginger, basmati rice
7.5% tax rate, 20% gratuity and a 5% administrator fee will apply
Bibb lettuce, green goddess, lemon-herb marinated vegetable salad, quinoa chili crunch
Romaine, pecorino romano, hearts of palm, crispy leeks, roasted garlic Caesar dressing, house herb-garlic croutons
Gulf fresh catch, rustic smoked gouda mashed potatoes, sautéed baby green beans, white wine-lemon butter
Springer Mountain Farm half chicken, rustic smoked gouda mashed potatoes, sautéed baby green beans, riesling jus
Grilled Gulf shrimp, rustic smoked gouda mashed potatoes, sautéed baby green beans, white wine-lemon butter
7 oz USDA prime sirloin, rustic smoked gouda mashed potatoes, sautéed baby green beans, roasted garlic compound butter
Mississippi sweet potatoes, sautéed kale, tomato curry, fresh ginger, basmati rice
7.5% tax rate, 20% gratuity and a 5% administrator fee will apply
Bibb lettuce, green goddess, lemon-herb marinated vegetable salad, quinoa chili crunch
Romaine, pecorino romano, hearts of palm, crispy leeks, roasted garlic Caesar dressing, house herb-garlic croutons
Gulf red snapper filet, rustic smoked gouda mashed potatoes, sautéed baby green beans, white wine-lemon butter
Springer Mountain Farm half chicken, rustic smoked gouda mashed potatoes, sautéed baby green beans, riesling jus
Grilled Gulf shrimp, rustic smoked gouda mashed potatoes, sautéed baby green beans, white wine-lemon butter
7 oz Angus filet, rustic smoked gouda mashed potatoes, sautéed baby green beans, roasted garlic compound butter
Mississippi sweet potatoes, sautéed kale, tomato curry, fresh ginger, basmati rice
7.5% tax rate, 20% gratuity and a 5% administrator fee will apply
Bibb lettuce, green goddess, lemon-herb marinated vegetable salad, quinoa chili crunch
Romaine, pecorino romano, hearts of palm, crispy leeks, roasted garlic Caesar dressing, house herb-garlic croutons
Gulf red snapper filet, rustic smoked gouda mashed potatoes, sautéed baby green beans, white wine-lemon butter
Springer Mountain Farm half chicken, rustic smoked gouda mashed potatoes, sautéed baby green beans, riesling jus
Grilled Maine lobster, rustic smoked gouda mashed potatoes, sautéed baby green beans, white wine-lemon butter
7 oz Angus filet, rustic smoked gouda mashed potatoes, sautéed baby green beans, sautéed local lump crab, Béarnaise sauce
Mississippi sweet potatoes, sautéed kale, tomato curry, fresh ginger, basmati rice
The Captain's Room
Area: 500 sq. ft. Capacity: 48 (sit-down) / 65 (stand-up)
The Captain's Room is decorated with a classic nautical theme. A private lavatory is also available for guests using this room. The view is of the Seville Harbor, The Deck, and Pensacola Bay. In addition, the room features audio visual capabilities including a television andprojection system.
Harbor View Deck
Area: 3500 sq. ft. Capacity: 100 (sit-down) / 200 (stand-up)
The Harbor View Deck, located outside of Atlas Oyster House, has beautiful views of Seville Harbor and Pensacola Bay. It also has steps that lead to Bartram Park, one of Pensacola's best wedding locations. Many guests have their ceremony in the park and walk over to the Harbor View Deck for their reception.

Pilot House
Area: 1000 sq. ft. Capacity: 30 (sit-down) / 50 (stand-up)
The Pilot House, named after our world-famous Blue Angels, is perfect for a sit-down dinner for up to 30 guests or a cocktail style events for 50 people or more. It has beautiful high ceilings and an urban loft-like feel. Located above the Atlas Oyster House, the Pilot House is a great open-air space that can be transformed for any style event. It has a private bathroom and balcony. The space has a great side room perfect for hosting dual meetings if need be. The private space offers a wonderful view of Seville Harbor and the main area is decorated with new and vintage Blue Angels memorabilia.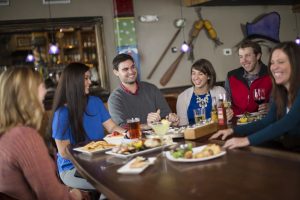 Atlas Bar Room & Captains Room
Area: need Capacity: need (sit-down) / need (stand-up)
Need Information things
ADDITIONAL INFORMATION